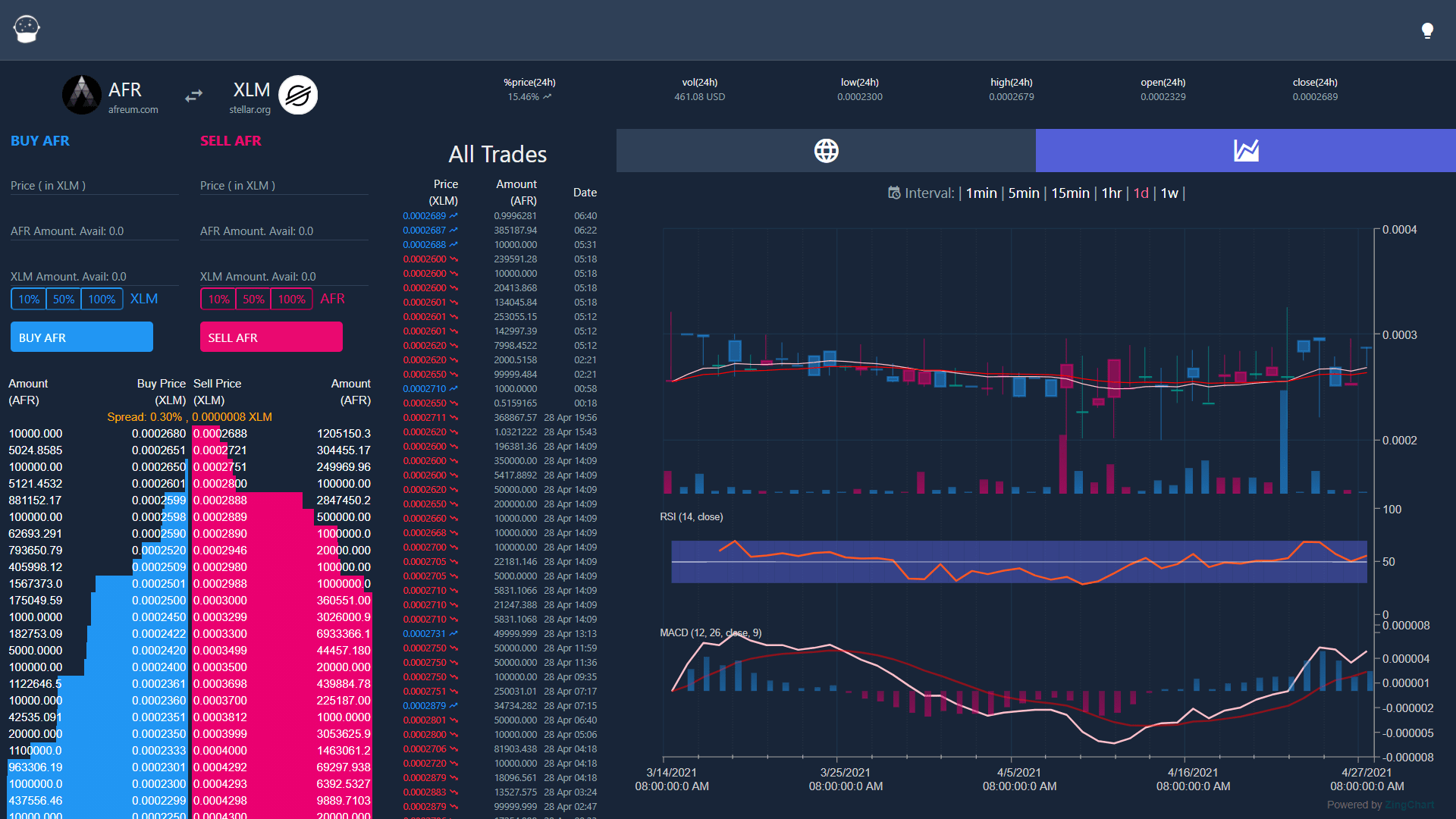 General Questions
Find out about Afreum Ecosystem, the whitepaper, tokens and more.
What is Afreum?
The Afreum whitepaper launched on 5th October 2020 with a mission to drive crypto adoption across Africa, while providing a way for international users to benefit by providing liquidity. Read the Whitepaper
What is Afreum Wallet?
Afreum Wallet is a Stellar Network-compatible wallet that allows you to interact with Afreum apps. You can create accounts in popular Stellar wallets, and exchanges, and import them into Afreum Wallet.
Where can I buy Afreum?
Afreum is currently trading on Coinsbit.io with 2 pairs: AFR/USDT, and AFR/BUSD, and P2PB2B.io with 3 pairs: AFR/USDT, AFR/ETH, and AFR/BUSD as well as on Finexbox Exchange with 3 pairs: AFR/USDT, AFR/ETH, and AFR/BTC. More exchanges plus coin trackers such as Nomics, Coin Market Cap and Coin Gecko listings coming soon.

We recommend using one of the centralized exchanges above for trading. You may connect accounts from the following Stellar wallets and exchanges to Afreum Wallet for staking rewards, or create a new account on Afreum.com. Afreum Wallet [Recommended], Stellar Account Viewer (open and view account only), Interstellar.Exchange, Scopuly.com, Lobstr.co, Solarwallet.io. These wallets can also be used: Stellarterm.com, Stellarx.com, and Stellarport.io
Afreum Apps
Learn about Afreum apps such as Afreum Wallet, Afreum Save, and Afreum Earn
How do I import a Stellar account?
Stellar Accounts are usable across Stellar-compatible wallets and exchanges, including Afreum Wallet. To import an account into Afreum Wallet, you will need your accounts Secret Key or Private Key (entered just once) and set up an Afreum Wallet password. Afreum will never store your private key.
How is my Secret Key secured?
When you create a Stellar account you receive 2 keys. A Public Key (starting with G) and a Private/Secret Key (starting with S). Your Public Key is used by others to send tokens to your account and CAN be shared. Your Private/Secret Key should never be given to anyone ever. When you "import" your Stellar account, the Private Key is encrypted on your device and never sent to Afreum.
What can I do in Afreum Wallet?
Afreum Wallet allows you to Send, Receive, Buy, Sell, Add and place trade Offers for Stellar tokens. Your Afreum-related tokens, such as AFR, AFRX, ANGN, are visible and tradeable in any Stellar wallet, but Afreum Wallet lets you seamlessly interact and transact in the Afreum Ecosystem.
What are the Afreum Ecosystem apps?
Afreum Ecosystem apps include Afreum Save, allowing you to earn interest by saving your Afreum tokens for 1 month, 3 months, 6 months, 12 months or indefinitely. In addition to earning interest you also receive FREE AFRX tokens, effectively doubling your interest. Afreum Earn allows you to STAKE your Afreum tokens to earn transaction fees or to perform atomic swaps between Afreum tokens and XLM.
Using Afreum
Discover how to use Afreum to provide liquidity and power crypto payments in Africa
How do I get started on Afreum?
If you don't have a Stellar account already, create one in a Stellar wallet such as Interstellar.Exchange, fund it with at least 2.5 XLM (approx. 1.25 USD), and add the following tokens:
AFREUM AFR
CODE: AFR
ISSUER: GBX6YI45VU7WNAAKA3RBFDR3I3UKNFHTJPQ5F6KOOKSGYIAM4TRQN54W

AFREUM AFRX
CODE: AFRX
ISSUER: GBDTAQDRSX3QOEAQQKYWRGOTFE5FHQTLIH5YAF2HGUY3PBKRXWDKBLHN

Import account into Afreum Wallet.
All set. What next?
Once your wallet is set up and you have imported it, you have a number of ways to acquire AFR tokens.

1. Use your original Stellar wallet to Trade or Swap XLM, or any Stellar token including ETH, BTC or USDT, for AFR.

These transactions take place on the Stellar Decentralized Exchange (DEX) so you can even make an Offer at your preferred price, and the DEX will handle matching your offer.

2. Use Afreum Wallet to Trade XLM, or any other Afreum token, for AFR on the Stellar DEX, or use Afreum Earn to SWAP XLM, or any other Afreum token, for AFR.

Just like any other Stellar wallet or Exchange, Afreum Wallet allows you to Send, Receive, Trade or make an Offer for AFR or any other Afreum asset via the Stellar DEX, with the added option of performing instant atomic swaps in Afreum Earn.


What are the benefits for me?
Both international users and African users can Save (zero-risk up to 10% APY) Afreum tokens, including AFR, in Afreum Save to earn interest + FREE AFRX tokens, effectively doubling the interest you receive.

In the future, you can also Stake AFR, and other Afreum tokens, in Afreum Stake to earn an equal proportion of Swap transaction fees, and any other Afreum token, plus FREE AFRX tokens, effectively doubling returns.

Arbitrage opportunities may also exist due to differences in the Afreum Stake liquidity pool Swap rates and the Stellar DEX rates that you may take advantage of at any time.

Such arbitrage is also good for the health of the Afreum Ecosystem.
What are the on-ramps and off-ramps?
Currently, the most direct way to acquire AFR is using Stellar's native token XLM. XLM can be purchased in Stellar wallets, on Stellar exchanges, in other multi-token wallets such as Trust Wallet or Exodus, or on Centralized Exchanges such as Binance, Coinbase, Kraken etc. Once you have acquired XLM, you simple send or withdraw it to your Stellar wallet or Afreum Wallet address.

With Afreum Bridge, it is also possible to acquire AFR by swapping any BEP 20 tokens on Binance Smart Chain, via Pancake Swap, Bakery Swap or 1inch Exchange, for AFR (BEP 20), and then swapping AFR (BEP 20) for AFR (Stellar). The same will be possible on Ethereum, once AFR (ERC 20) swap pools are live.

Fiat on-ramps and off-ramps for Africans are enabled via Afreum Cash, which allows Nigerians, for example, to enter the Afreum Ecosystem with Nigerian Naira. Afreum Cash, together with related apps, will be the main catalyst for driving financial inclusion, and crypto adoption across the African continent.